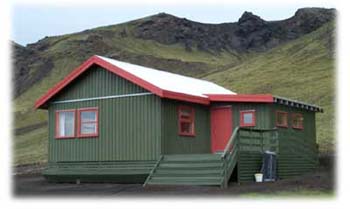 Inside ..click on the pictures to enlarge
A cottage for 24 people, heated with gas ovens. It is situated very close to the horse fences, a short distance from the main tourist service and accommodation centre at Landmannahellir. It is possible to order accommodation in cottage Gil all year round if weather and road conditions allow it.
Price 2023 for accommodation in sleeping bags:

7.200 Icelandic kronur, (kr.) one night per person.
Children 7 -15 years : Isk 3.600,-
Overnights tax : Isk 0,- per cottages.
No charge for children up to 6 years old.

From 21. September to 31. Mai; contact Engilbert, telephone +354 893 8407 or send him an e-mail.
From 01. June to 21. September; contact the guardians at Landmannahellir, telephone +354 8938407 or send them e-mail .
Cancellation policy :
If the cancellation is received less than 30 days from arrival require, customers have to pay full price.